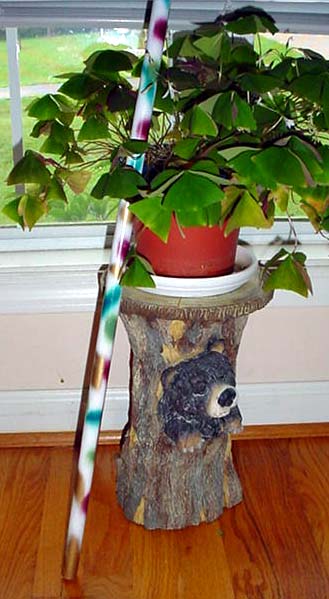 A walking stick is a good thing to have when you're geocaching... you can use it to make sure you're stepping on solid, dry ground when you're in the woods, or use it to check out a hollow
before
you put your hand in (to make sure there are no critters hiding there.) Use it to brush away spider webs... and of course, to lean on when you're tired!
Here's a simple idea for decorating your own walking stick. What you need:

* A 3/4 " diameter dowel rod, 36 " long (WalMart has them for $1.58) ("Teachermom" says an old mop handle works well, too!)
* Three or four colors of spray paint (see if you have paint left over from other projects)
* Clear sealer
Ask your parents to supervise and help. If you tap a nail into the top of the dowel rod, you can tie a string onto the nail to hang the stick in a safe place to paint - outside under a tree is a good place.
Use the spray paint to spray splashes of color here and there along the stick on all sides - be creative! You may want to write your name on the stick with a black permanant marker, or draw pictures after the paint has dried.
When you finish decorating your stick, spray it with a clear sealer and let it dry for about 24 hours.
I sprayed white paint first on the whole stick. Then I used green, blue, red, and gold to put splashes of color all over. What do you think?