February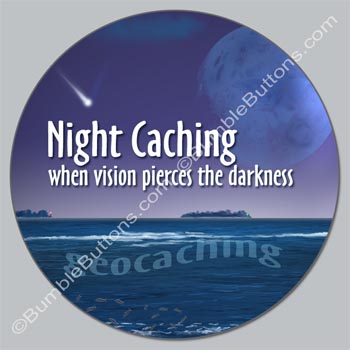 This quarter's buttons feature "night caching." Relatively easy caches are made more difficult and mysterious by a night search requiring your vision to pierce through the darkness.
---
March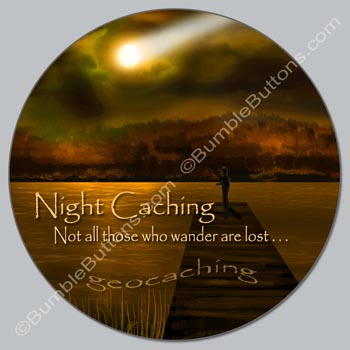 We see the quotation attributed to Tolkien and it certainly fits geocaching. But it is actually part of a longer poem dealing with perception vs. reality.

"All that is gold does not glitter,
Not all those who wander are lost;
The old that is strong does not wither,
Deep roots are not reached by the frost.
From the ashes a fire shall be woken,
A light from the shadows shall spring;
Renewed shall be blade that was broken.
The crownless again shall be king."
---
April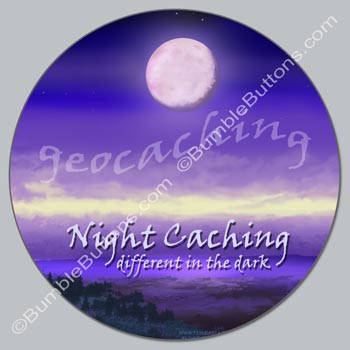 The sounds are eerier, the air smells different, the light of the moon casts different shadows -- geocaching is just different in the dark!
All buttons are 2.25" across and are made of thin steel with a pin-back for wearing or attaching to hat, or backpack. They are printed in pigment inks on photo paper and are then covered with a thin sheet of clear mylar before being assembled with a professional button press.
BumbleButton
of the Month Club
Face it - you're addicted. Geocaching is a permanent part of your life, which means you're always looking for reasonably priced trading items. If you're tired of dollar store items or compasses and carabiners, here's a painless way to make sure you always have cool stuff to leave in the caches you visit.
With your membership, you'll get a shipment of 36 buttons (12 of each design in the 2.25" size) all packed together in one shipment to save on postage. The design of each button in the collection is new and fresh. These designs are reserved for club members only.
Best of all, the BumbleButton of the month club is affordable and convenient. All fees are charged to your credit or debit card through PayPal. Depending on the subscription option you choose, you can save from 25-50% off the regular website prices.
Every three months, the designs will change so you'll be assured of something entirely different and collectible. Take a look at the designs pictured at the left. With your membership in the BumbleButton of the month club, you will get 12 of each design to the left.
---
Two Subscription Options
Save 33% on your order with the trial subscription. This option obligates you to one single payment of $24.99
($19.99 +$5 shipping) for a one-time trial membership. After this single payment, there is no further obligation.


---
Save 50% on your order. This convenient option will automatically renew every three months and keep the supply of buttons coming without interruption for a cost of only $19.99 ($14.99 +$5 shipping). You may cancel this subscription at any time.
---
Great for Gifts!
Terrific to take
to Event Caches!


THE FINE PRINT:
No substitutions or customization of designs in the button club are allowed.


Prices and postage above
refer to US sales only. If you live outside the US, please email me first.